Tiger Woods PGA Tour 14: Masters Historic Edition (PS3/360)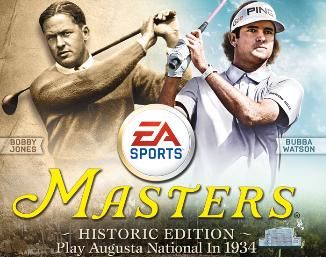 Golf, a game of smashing balls into small holes with the least strokes as possible, that's about sums it up. A sport that has been going on for decades, just like snooker, billiards etc, it's a sport that can be played casually or taken to the extreme (pro) level, as they say 'what you put in, is what you get out'. The latest version from Electronic Arts serves to be the most realistic ever yet, does it serve up a hole-in-one or a just a load of bogeys? Read on and find out...
From the get go there's the all-new game mode Legends of the Majors. In this mode you'll travel back in time to compete and golf against some of the greatest players that defined golf: from Arnold Palmer, Jack Nicklaus, Gary Player, Lee Trevino, Ben Hogan, Sam Snead to Boggy Jones. As you start from the early years, the screen is sepia-colored, as you advance through the years, colors will be added subtly until you're playing with the legend himself, Tiger Woods.
Now on to the main modes. For the first time, you can take your created player/s through all four of the golf majors: Masters Tournament, U.S. Open, Open Championship and the PGA Championship. Another first for the franchise is that LPGA now makes an appearance. The 'L' meaning Ladies. This addition adds popular female golfers like Paula Creamer, Stacey Lewis and Lexi Thompson to the list.
The title brings back the solid online experience that it started last year with county clubs. These clubs allow you to either create or join up to 100 other players globally to compete against each other in daily events that offer up large coin pay-outs, it's the currency used to purchase extra content within the game. Once a club is joined, its member stats are integrated into every aspect of a game. For example, between holes in the career mode you'll find leaderboards that will show how well or bad you stack up against other members on that particular course. Additionally, you can chat with your mates anytime now, regardless of what modes each of you are in - which is pretty darn handy.
With all of its new modes and features, it all comes to how well the game plays and ultimately, feels. I'm glad to say that the title feels solid and responsive. As with most sport games that require precision, accuracy, positioning with movements and such, there's plenty of features in the game for players to suit their needs. There is a new feature called Golfer Swing Styles. This feature allows your character/s to choose his or her own personal play style, for example: power vs control, draw vs fade, righty vs lefty and the preferred trajectory (low, medium or high). Power players can easily outdrive a control player, but a small slip left/right on your forward swing will find your ball veering off the fairway and into the second cut; whereas the control player's additional tolerance for minor mistakes will keep the ball on the fairway (all these things are taken into account on the fly and adds that extra realism/edge to the game).
Visually and audio-wise, EA never really disappoint in this area. The commentary is accurate and clear. After a shot is taken, there is a big amount of camera angles that follows the ball, done just like they do on real tv broadcasts, it gives the shot a cinematic feel. Character animations are fluid and lifelike along with the game's impressive lighting effects - with day and night cycles shifting the sunlight off the courses (just as they would in real-life presumably).
For gamers and indeed budding golfers out there, to get the best experience of the title would be to use a device such as the Move controller. I'm glad to say that the controls are pretty perfect to a 'tee' and really add to the overall experience of the game. It may take some time to get used to the controls but trust me, it's worthy of your time if you have a Move, you really don't want to go back to pad controls once you've got the 'swing' of things.
Overall, I really enjoyed the title and it's really moved on since the last time I played it, which was quite a few years ago. I remember playing my first ever golf game 'Leaderboard' on the Commodore 64 back in the days, and thought to myself, nothing can beat this, ever! lol. This latest iteration of the genre features plenty of modes to keep fans of the sport happy as well as introducing female golfers onto the green. With its refined control/swing system, you can't really go wrong, unless you intend to play badly! With online modes to keep you going even after the main game is done, I don't think I need another golfing title for a while yet - well, perhaps until the next-gen systems are out! :)
8/10
(PS3 Review)
{jcomments on}